About the A428 improvements
Learn more about National Highways' plans to upgrade the route between the Black Cat roundabout and Caxton Gibbet...
National Highways is proposing to upgrade the route between the Black Cat roundabout and Caxton Gibbet roundabout with a new 10-mile dual carriageway and a number of junction improvements. The proposed scheme is estimated to cost between £810 to £950 million and, if given the go-ahead, will improve journeys between Milton Keynes and Cambridge, bringing communities together and supporting long-term growth in the region.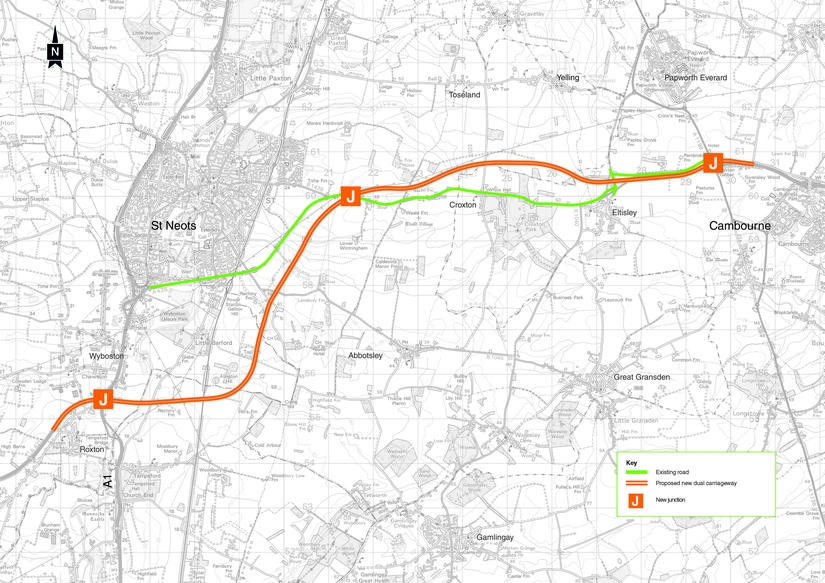 National Highways
National Highways is improving journeys between Milton Keynes, Bedford and Cambridge.
The A428 between St Neots and Caxton Gibbet is the only stretch of single carriageway between the M1 near Milton Keynes and Cambridge.
It is an important link between the M1 and the M11, connecting the communities of Bedford, St Neots, Cambridge and Cambourne.
Around 25,300 vehicles travel between Cambridge Road and Caxton Gibbet every day. With considerable local housing and job growth expected, this number is likely to grow to 32,900 vehicles by 2040.
People that use the A428 regularly experience congestion and delays, especially in rush hour. The situation is made worse by the lack of alternative routes.
Archaeological excavations are being carried out along the new proposed route, ensuring that sites of possible historical interest are identified and investigated.
Find out more about the proposed A428 Black Cat to Caxton Gibbet Improvement Scheme on the National Highways website.
JOIN THE JOURNEY
Follow our social media channels for the latest updates, to see exclusive video content and images, and put forward your own thoughts on the scheme!
#A428BlackCat