Introducing Delapré Digs: Archaeology for Wellbeing
| 18.10.2023
Delapré Digs is an exciting new community Archaeology wellbeing project in partnership with Delapré Abbey Preservation Trust (DAPT) and Museum of London Archaeology (MOLA) in Northampton.
We'll be located at the Delapré Abbey, a neo-classical mansion and dis-established Abbey set in large, tranquil grounds in Northampton. The project offers an opportunity for local residents to take part in a range of archaeological activities, including excavation, finds processing, research and recording, as well as creative activities such as illustration and pottery making.
The project uses social prescribing and Archaeology to create positive wellbeing impacts. It does this by engaging community members affected by poor mental health, loneliness and long-term health conditions, as well as reaching residents who may fall outside of archaeology's usual audiences.
After months of preparation, we are so excited to finally get started with the dig! The project will run for 6 weeks, with one day a week together getting stuck in to Delapré Abbey's Archaeology.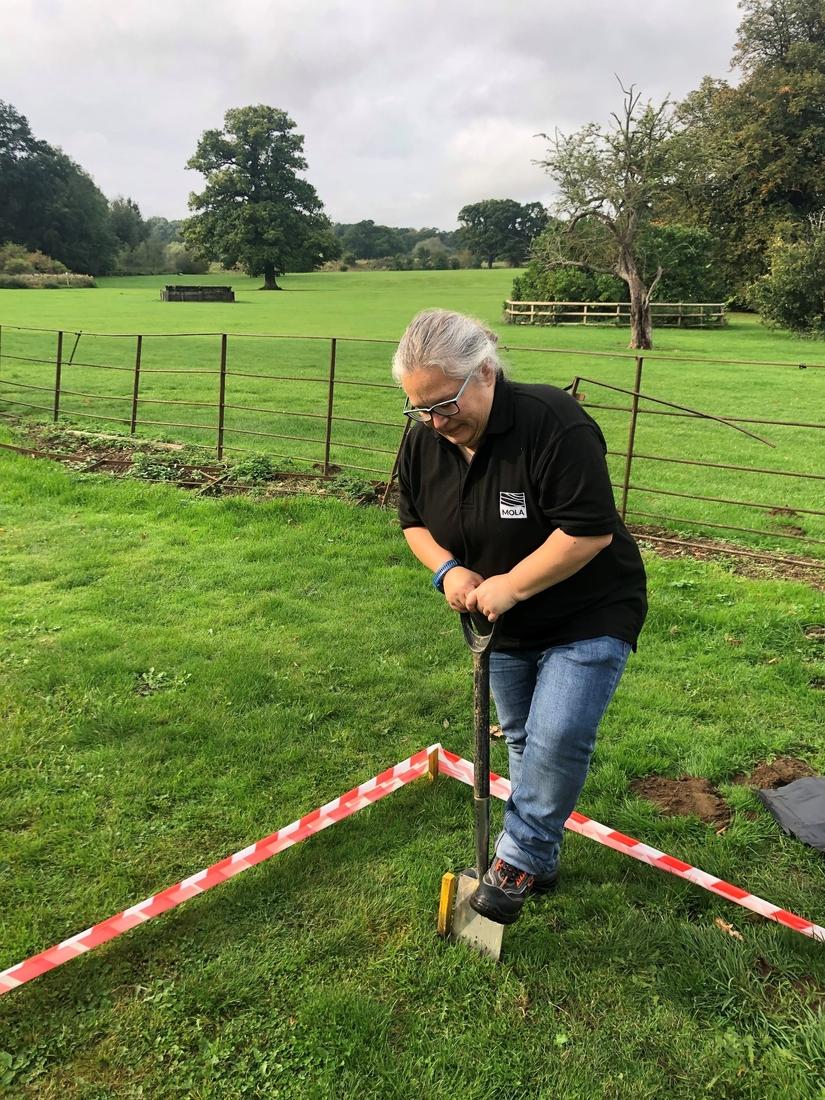 De-turfing the test pit
How will the project make a difference?
Archaeology might not be the first thing that springs to mind when thinking about wellbeing and looking after our mental health. However, there is a growing field of research and projects that use Archaeology to create positive impacts on wellbeing and mental health for different audiences, including  veterans (Waterloo Uncovered, Operation Nightingale), adult citizens (Archaeology on Prescription) and young people (Project Rejuvenate). Research shows that taking part in archaeological activity can have positive psychological impact through fostered connection with others, increased knowledge, increased confidence and physical activity (e.g. Brizi et al 2023, Everill et al 2020).
This project has been designed to support the wellbeing of people living in Northampton who are experiencing low to moderate mental health needs, loneliness, isolation and long-term health conditions. Some participants have been referred onto the project through the NHS using social prescribing and some participants have self-referred onto the project.
Delapré Abbey Preservation Trust (DAPT) are experienced at delivering wellbeing activities through social prescribing by working with Northamptonshire General Practice Alliance (GPA). This project has been made possible by a MOLA Impact Acceleration Account project grant, supported by the Arts and Humanities Research Council (AHRC).
The project has begun!
On a bright October day, we broke ground, marking the official beginning of the Delapré Digs: Archaeology for Wellbeing project. The site has a fascinating 900 year history with plenty of finds from previous Archaeological works including a beautiful Roman glass phial, and pottery from many periods.
The test pit area we will be excavating has never been dug before and it has been carefully chosen using in-depth knowledge of the site, past Archaeological reports and intriguing finds. After a final thorough scan with the 'CAT and Genny'* to confirm the location of services, we could finally put spade to soil.
CAT stands for Cable Avoidance Tool and Genny is also known as a Signal Generator. The Cable Avoidance Tool is used to locate underground cables and pipes, while the Signal Generator tool emits a specific signal that is detected by the CAT.
Assisted by a volunteer on a warm cloudy morning, the turf was carefully removed off the future test pit, brick by brick. It was exciting to make the first cut with the spade into the soft grassy earth, and even more exciting to see the test pit area fully uncovered. We can't wait to get digging and see what secrets lie beneath!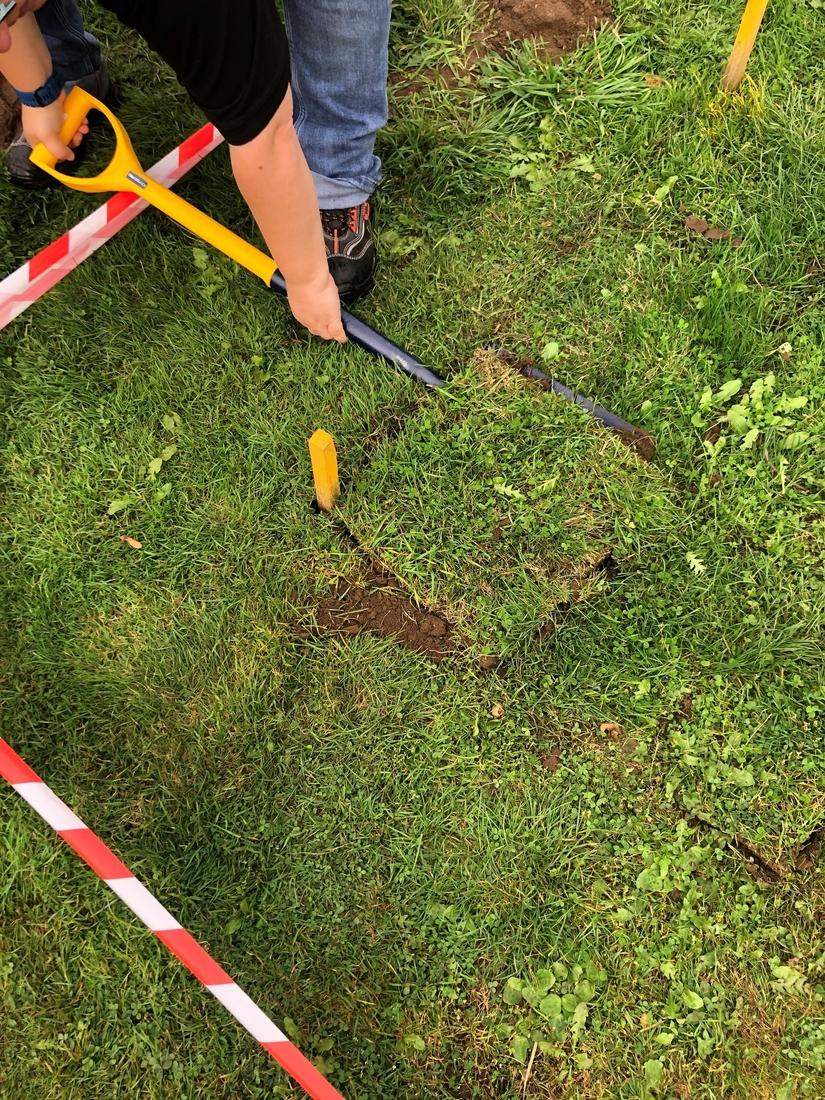 Turf has to be removed carefully, by rolling or making 'bricks' so that it can be replaced later on
Participants look into the past, and forward to the future
We spent a wonderful sunny Monday meeting the participants and looking at past Archaeological reports and finds. It was brilliant to meet everyone and hear their interest in Archaeology, history and Delapré Abbey. We handled finds from previous Archaeological works to get a taste of what may lie in store for us once we get digging. We were all drawn to different artefacts, and shared stories and questions about the interesting Archaeology beneath us.
We met again the following week in Delapré Abbey's beautiful Coach House for an introduction to the project and an all-important safety briefing from MOLA staff Jenni McNulty, Yvonne Wolffram and Calypso Finch. We were lucky to have a fascinating whistlestop tour of the history of Delapré Abbey delivered for us by a brilliant volunteer. It was great to see all of the participants again (who had grown in numbers!) and share tea, coffee and interests together.
The tour was a perfect introduction to the many stories, lives and years that Delapré Abbey has seen in its 900 year history. It gave us all a taste for more, and we cannot wait to uncover more of Delapré Abbey's Archaeology when we meet again to excavate our test pit.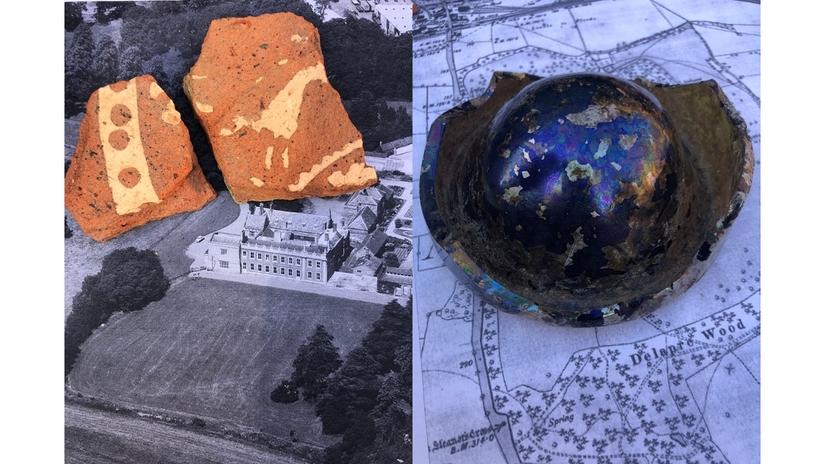 Pieces of a Medieval encaustic tile (left) and a punt (indent) from the base of a glass bottle, both found during previous archaeological work at Delapré Abbey
What will we find?
We don't know for certain what exactly we will find in our test pit, but we are keen to find out! We will be excavating the test pit to the same standards MOLA use in their everyday work on sites across the country. Finds will be carefully excavated, recorded, washed and stored.
Participants will be taking part in a wide range of Archaeological activities, just as important as physical excavation, which will help us learn more about the Archaeological finds we uncover, and the stories they have to tell.
We will keep sharing updates about our discoveries and activities, so keep following our blog to see what mysteries we will unravel! 
In the meantime, you can read what MOLA and Delapré Abbey staff have to say about this exciting project. Hear from Katrina Gargett, Community Partnerships Manager at MOLA, Eleanor Sier, Head of Engagement and Interpretation of Delapré Abbey and Claire Finn, MOLA Northampton's Head of Research and Engagement.
Thank you for joining us at the start of our project. We can't wait to share our future finds and successes.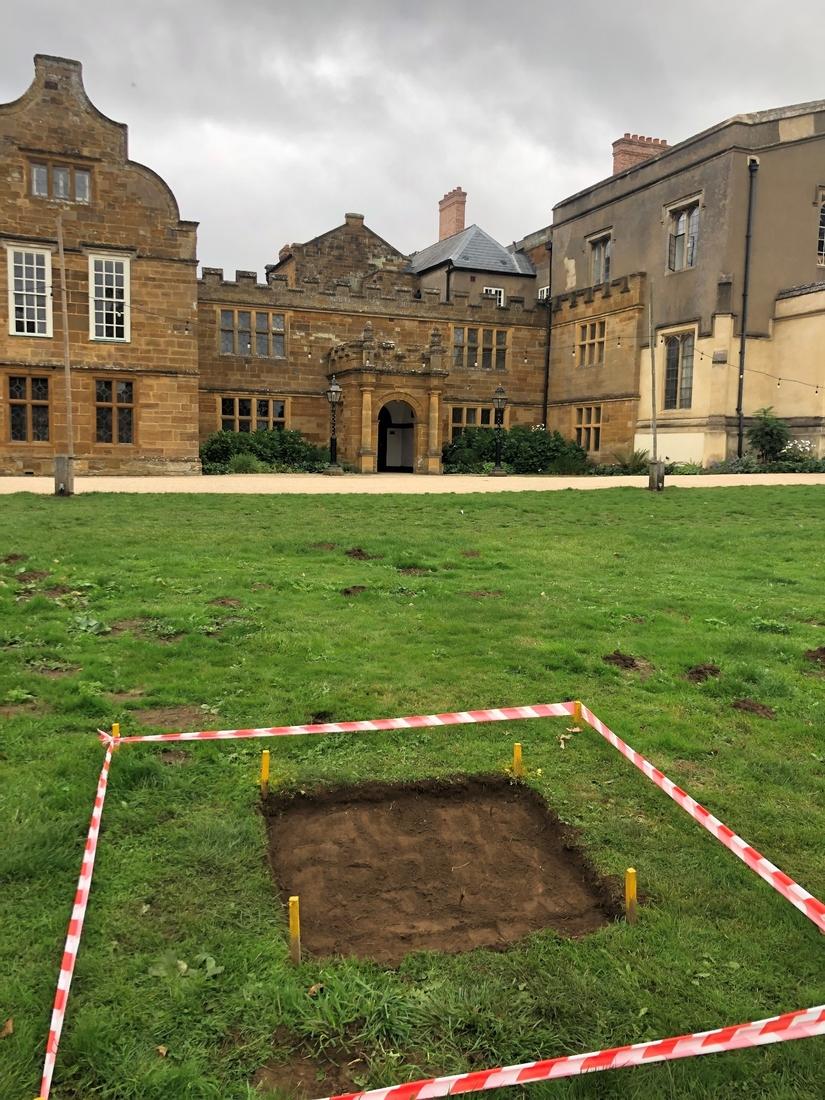 Watch this space!
Community project
IAA
East Midlands