MOLA's new digital X-ray resource
Katherine Newton | 14.03.2022
Warning: this blog contains images of archaeological human remains
It is a truth universally acknowledged that X-ray is a vital tool in modern archaeology. X-ray allows us to look beneath corrosion and soil without risking damage to objects. It helps us to:
see form, detail and decoration
learn more about what condition the objects are in
guide conservation work
give human bone specialists more information about pathology
We often use X-ray to learn more about metal and composite objects. We also use the technique during micro-excavation of finds groups lifted in their surrounding soil and vessel fills to investigate the contents and help to record them in situ.
These X-ray images are an important record of archaeological objects for researchers in the future.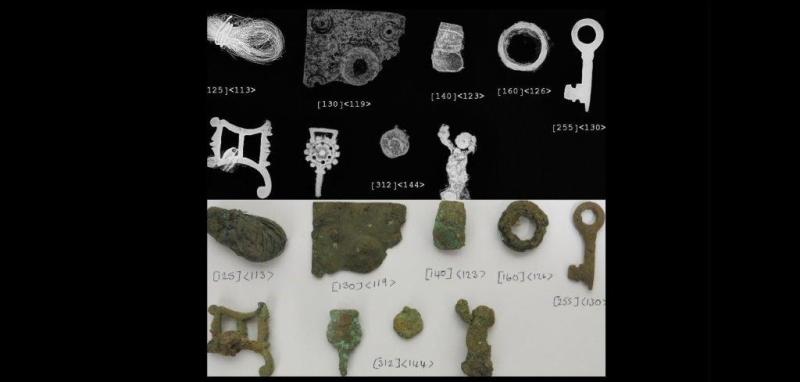 1. For improved access and easier finds research
Until recently, you could only create X-ray images by chemically developing single-use film. Our new digital X-ray equipment produces detailed, high-resolution images as digital files that are much easier to work with.
Previously, an image on film could only be looked at by one person at a time. But with digital files, lots of people can now access these X-ray images in different places simultaneously.
We also offer free software to archives receiving our X-ray images to help them examine the high resolution DICONDE files on a standard office computer. Excitingly, researchers can even zoom in and edit these images, knowing the originals are protected. At the other end of the scale, we also offer smaller JPEG files that can be easily emailed and shared.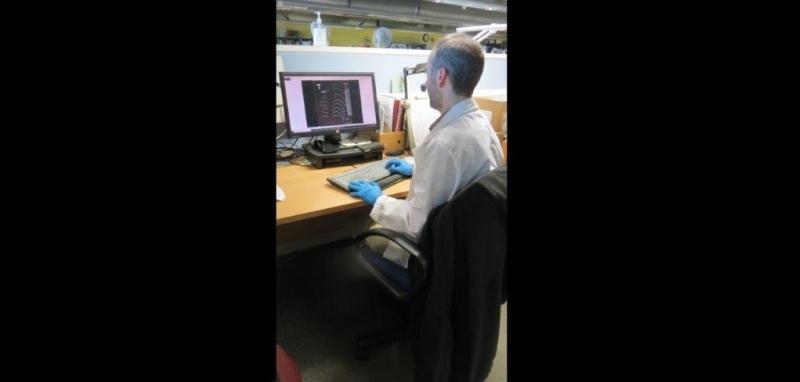 2. For a well documented archive
Our standard digital X-ray plates are laid out with supporting information according to Historic England guidelines.
We always offer archives the original high-resolution images to keep alongside their finds archive. We label the files to make searching easy and they require no physical storage space. Images can also be provided in a range of formats for display and media purposes.
3. For greater safety and environmental sustainability
Just as important as these benefits to researchers, not needing to chemically develop film means our staff work more safely.
The digital X-ray process also dramatically reduces the amount of chemicals used and waste produced.
4. …And for larger items
Finally, MOLA's new larger machine is able to X-ray longer and larger items more easily, such as:
femurs to look at evidence for trauma and disease in the bone for archaeo-osteological projects
coffin plates, certain types of tools and weaponry
larger vessel fills and group assemblages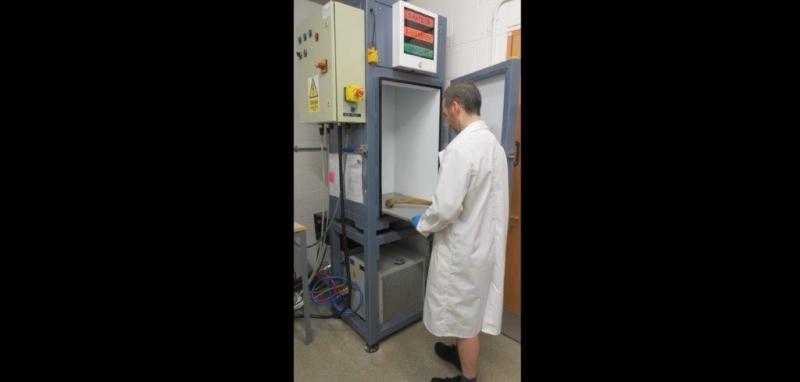 Support from AHRC
The Arts and Humanities Research Council (AHRC) "Capability for Collections Fund" made this possible. Their funding will help us collaborate and use X-ray in new ways to enhance our current research and engagement work, and also help us to develop new research projects with more efficient and accessible X-ray imaging. 
New for 2022, we're proud to have won a further AHRC grant through their 'Capability for Collections Fund: Public Engagement Awards'. This grant gives us our first opportunity to use this new equipment for community engagement. This project is 'Crafts and community in the past and present: engaging local communities with their Roman past using ceramic radiography'.
About Archaeology
News