Volunteering with the TDP: A New Volunteer's Perspective
The foreshore is a unique place. It is, in fact, many places at once. When you're there, you are surrounded by clues of social history, spanning from pre-history to the present day! Tangible remnants of the daily lives of those who've gone before. And therein lies my initial motivation for volunteering with Thames Discovery. I signed up to training because I wanted to understand more of these clues- more of the stories that you are surrounded by and standing on when you enter the liminal foreshore space.
More than that, I wanted to help record these clues for generations to come. Without volunteers, much of these clues will eventually be lost to the ebb and flow of the Thames tide. In some cases, our recorded observations may be the last 'footprints' left by the lives of our forebears. Being part of this process feels like being part of their story.
But, I'm getting ahead of myself- let's start with the training experience…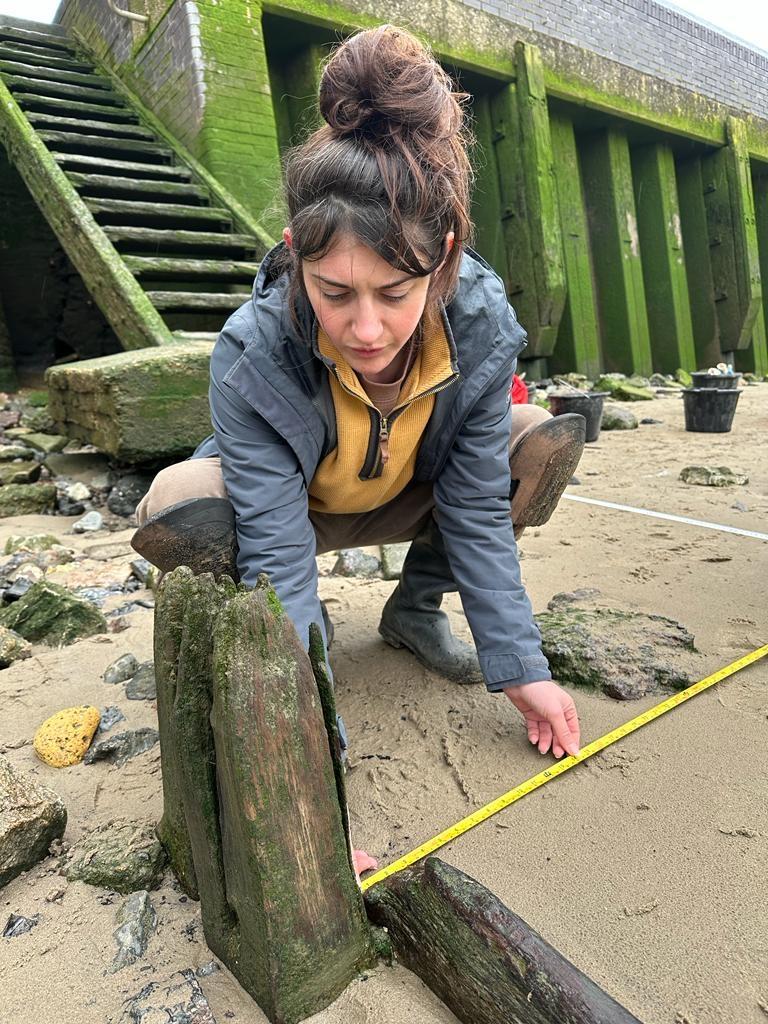 When you walk into the room in anticipation of your foreshore training, the first thing you'll notice is an unwaveringly warm atmosphere. The kind of atmosphere that only a room full of people with shared interests, all eager to contribute, can generate. Will, Josh, Helen, and Claire – the four marvellous humans who make all this possible, are some of the friendliest and most intellectually generous people you could meet. Their excitement and appreciation for what the foreshore has to offer is infectious. Your time spent with them will be studded with impromptu historical tidbits that arise organically from your conversations.
There's nothing like learning passively from a born storyteller! There are hot drinks and biscuits to suit everyone's taste, tolerances, and preferences. After some foreshore health and safety (clothing, tides, live artillery), you have the opportunity to learn about the names and purposes of some structures commonly seen along the foreshore: your first deeper dip into the clues offered by the Thames.
After lunch, you have your first go at recording. On my training day, Will spent the lunch hour laying out faux artefacts on the ground with masking tape, in all manner of shapes and sizes. You do this in groups of 3, which is precisely how you will be doing it on the foreshore. Whilst it takes a few goes to get the hang of recording the archaeology, the group energy is one of patience and enthusiasm. If you're the sort of person who can giggle at yourself for recording a make-believe Roman hypocaust flume far too big or small the first time round, you'll have a great experience.
Don't be afraid to explore approaches that make the permatrace paper easier for you to read – for example, I benefit from drawing a little cross at every line which represents a metre. It helps my eyes to accurately perceive distances as they are represented on the permatrace. You can always rub them out if they get in the way of the drawings.
I don't know what I expected as I made my way to my first real life fieldwork session, but many words apply. Meditative. Immersive. Surprising. Satisfying. I was nervous that I may have forgotten the particulars I learned in training, but it only took 15 minutes to find my rhythm. More importantly, I soon learned that even seasoned volunteers draw a dud point sometimes, and no one minds! It only takes a moment to rub it out and re-measure it.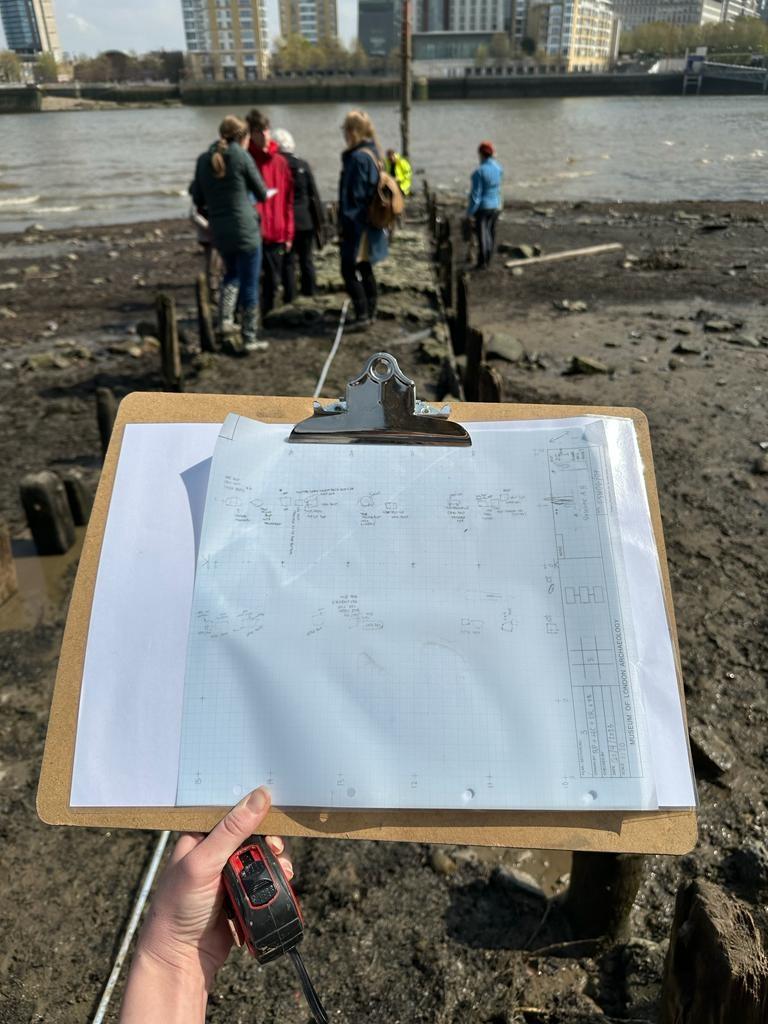 The first day is spent cleaning the archaeology with brushes and buckets of Thames water. As you gently strip away layers of algae or mud, you find yourself in communion with the piece of archaeology you're tending to. Details emerge that one would never have seen – bits of character which tell you part of its story. For example, some of the posts in the Horn Stairs causeway were repurposed from ships!
You learn why, and what gives it away, from those working at Thames Discovery, and other volunteers. Many volunteers are just as good at storytelling, with juicy knowledge to impart! I even discovered a noughts & crosses game etched into a centuries-old post. Hidden under inches upon inches of mud! Some doodles are timeless, huh.
I've already written too much, but the last thing to mention is the joy of finding a little community. A new sphere to make connections and enjoy a rewarding task together. Often with people you'd be unlikely to meet in any other capacity.
If you are looking to invite new adventure, knowledge, and connections, into your life, it starts with a FROG training session.
Please note: we run training during the Spring every year. If you are interested in training please get in touch with the team in January 2024.
Thames Discovery Programme
Greater London