From workhouse to hospital: The archaeology of health care at St Pancras
Katherine Newton | 26.07.2023
We've been busy excavating the two-acre Oriel area, located inside the St Pancras Hospital site!
Oriel marks a new chapter in medical history on this site, which already stretches back over 200 years. We outlined the history of the St Pancras hospital site in a previous blog, and one important part of the timeline was the 1812 addition of an infirmary to the workhouse built just 3 years earlier.
But what did health care look like at the workhouse? And what have archaeologists discovered about medical care on the Oriel site?
Healthcare in the workhouse
Archaeologists have found foundations of the extensive sick wards which were added to the workhouse as it grew after the 1840s. Interestingly, we didn't find many artefacts around the remains of the sick wards so there aren't many obvious clues about medical care for us to learn from. However when we closely analyse the remains we may be able to see how developments in the workhouse layout match developments in medical science, like the arrival of germ theory.
This is quite unusual, as most archaeological sites have some objects that were lost or thrown away. It indicates that the buildings were carefully cleared before they were demolished.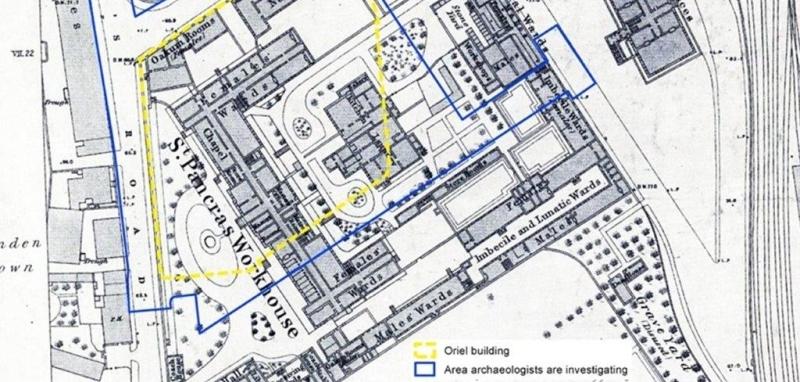 Workhouse plan showing location of kitchen and laundry in the centre of the site.
Archaeologists discovered that several parts of the new hospital buildings followed the existing layout of the workhouse. Several walls were clearly built on top of the workhouse foundations – following the location of those original walls.
Some areas even appear to have been used for the same purpose. The hospital kitchen built in the 1940s sat in the same area as the workhouse kitchen!
Archaeologists excavating the workhouse laundries found the large Victorian water tanks still intact, along with soak aways that directed wastewater deep into the ground. While investigating this building, they discovered that 1940s concrete was also channelling into the same soak aways. This suggests that the hospital reused a lot of the workhouse utilities, even when there were opportunities to rebuild.
Finally, the most obvious impact of the 1940s lies in the north-east corner of the Oriel site. No Victorian workhouse foundations remain in that area because of a direct hit from a WW2 bomb.
Everything found on the Oriel site is now being carefully analysed by our specialists, and we're excited to discover what other clues to the past we can find!
We are excavating this site as part of the planning consent obligations for Oriel – a new state-of-the-art eye care, research and education centre. Oriel is a joint initiative between Moorfields Eye Hospital NHS Foundation Trust, the UCL Institute of Ophthalmology (IoO) and Moorfields Eye Charity. Construction of the centre will begin later this year with the building opening in 2027.
Oriel
Greater London